Sure, you're probably heading to Santa Barbara for its glorious sandy beaches, and all the good things that come with it. Surfing, sunbathing, that sort of thing. But once you're done with the miles and miles of breathtaking coastline, there's a whole lot more of Santa Barbara to be explored – and it's a lot more than just sandy beaches.
Santa Barbara is actually home to a whole host of great restaurants, museums and attractions, and it's pretty easy on the eye too – most of its historic landmarks are just begging to be photographed and stuck on an Instagram story. So whether you're there for its annual film fest or its wine festival, you'll never be stuck for things to do in this city. Read on for the best things to do in Santa Barbara right now.
Fun things to do in Santa Barbara
1. Old Mission Santa Barbara
The late 18th-century Old Mission Santa Barbara gave the city more than just its name. You can see its lush courtyard, tiled roof, and shaded arches reflected in buildings all over Santa Barbara. But the mission is a beautiful, historical destination on its own, with a solemn cemetery, chapel, and an exhibition about its construction and life within its walls.
2. Santa Barbara Museum of Natural History
The compact halls of the Santa Barbara Museum of Natural History lend themselves well to pint-sized patrons, from a kid-sized cavern to an outdoor playground. Adults can enjoy a stroll around the campus' Mission Revival buildings spread along a wooded creek, while the small Sea Center at Stearns Wharf is an all-ages winner, with shark- and anemone-filled touch tanks and a research center with biologically-rich muck straight from the seafloor below.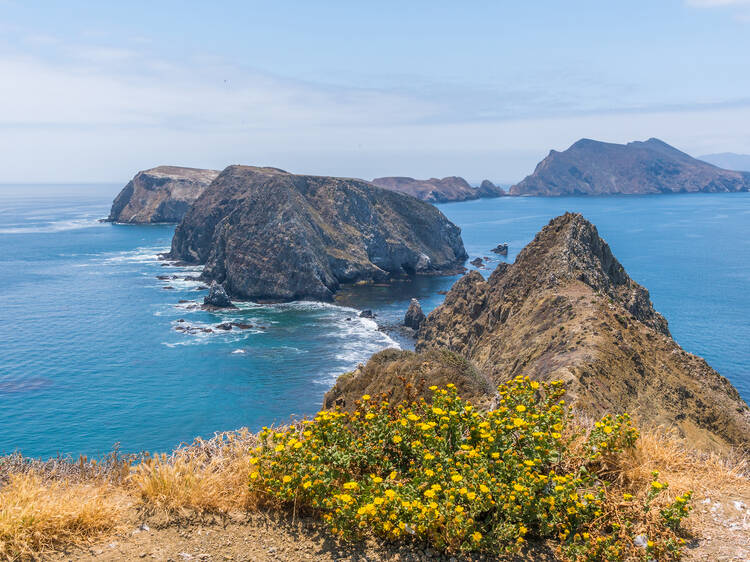 Photograph: Shutterstock
Hike to Inspiration Point for the kind of breathtaking natural encounter that will clear your mind. There are two ways to get to Inspiration Point, a beautiful outlook overlooking Santa Barbara's coastline and the Channel Islands in the distance. The shorter option starts at Tunnel Trail and will make for about a 3.5-mile roundtrip. It begins on an easy paved road for about a mile but then makes its way to a trail that is steep in parts. The other option is starting at Jesusita Trail, which is steep in some areas and stretches about 7 miles.
---
4. Santa Barbara Museum of Art
State Street's Santa Barbara Museum of Art recently completed a massive six-year renovation and expansion project, bringing new gallery spaces and public areas to the museum. You'll find a mix of rotating exhibitions and highlights of the permanent collection that are heavy on Impressionism and Southern California abstraction. Visit the museum store for jewelry, books, toys, and other custom items.
5. Stearns Wharf
If you're looking for fresh seafood, head to Stearns Wharf in the early morning hours to wait for the fishing boats to unload their catch. You can buy straight from the boats and take your fish home with you on ice—it's cheaper, fresher, and way more fun. Although the pier (home to California's oldest working wharf) offers wine tasting, a touch aquarium for kids, and lots of shopping and dining options, avoid it after mid-morning—it tends to become a bit of a tourist trap as the day goes on.
6. Santa Barbara County Courthouse
Santa Barbara County Courthouse is the one time you might want to spend a day in court. The Spanish-Moorish structure is striking from the inside, but step underneath its spacious archway, and you'll find yourself inside one of the most beautiful government buildings in the country, period. Take the elevator or stairs to the top of the Seth Thomas Tower Clock for sweeping views of Santa Barbara—and make sure to stop by the historical, sublimely painted Mural Room on the second floor.
7. Santa Barbara Botanic Garden
If you're the type of person who finds peace in nature, the Santa Barbara Botanic Garden should be on your itinerary. This garden, which focuses on native California plants, is unlike any other. Even the Redwood Section, where redwood trees were planted beginning in 1930, looks as though the trees are organically growing there. Throughout the mile-long walkway, there are plenty of spots for visitors to sit and reflect.
8. Lotusland
Polish opera singer and garden enthusiast Ganna Walska built up the beautiful tropical and subtropical gardens at Lotusland over four decades. Today, you can explore the multiculturally-themed gardens with two-hour guided tours that'll take you through everything from a silvery-blue forest to a prehistoric-looking cycad garden.
9. Santa Barbara Zoo
A tangle of trails weaves through the beautiful grounds of the Santa Barbara Zoo. Equal parts open green space and lush animal habitats, the zoo is teeming with conservation information and close-up views of creatures like elephants, lions, leopards, and giraffes. Check at the front to see the daily feeding schedule for the long-necked mammals.
---
10. Trolley tours
Short on time? Take a 90-minute narrated trolley tour of Santa Barbara's main attractions. Santa Barbara Trolley Company offers daily tours that leave from the Visitor Center at 10 a.m., noon, and 2 p.m. This is a great way to see the Santa Barbara Courthouse, Santa Barbara Zoo, Museum of Natural History, Old Mission Santa Barbara, Stearns Wharf, East Beach, the harbor, and more.