ICE CREAM & MORE
à la Minute (Orange) – made with nitrogen
Afters Ice Cream (Costa Mesa, Fountain Valley, Tustin, Chino Hills & Long Beach) – home of the famous Milky Bun
Churned Creamery (Tustin)
Cloud Poke and Snow (Fullerton)
Cream (Aliso Viejo & Irvine) – unique ice cream sandwiches
Coldstone Creamery (Multiple Orange County Locations)
Creamistry (Anaheim, Brea, Cerritos, Irvine, Mission Viejo, Tustin & Corona ) – made with nitrogen
Dad's Donuts & Ice Cream (Newport Beach) – Famous Balboa bars and chocolate dipped bananas
H2 Snow (Orange)
Honey & Butter (Irvine)
Honeymee (Buena Park, Cerritos, Irvine & Westminster) – natural milk ice cream with pure honeycomb
La Michoacana Premium (Santa Ana) – Mexican Ice Cream Treats
Milky Snow Bar (Garden Grove)
Nitrolado (Garden Grove) – made with nitrogen
Scoops N Scoops (Irvine & Chino Hills) – made with nitrogen
Shaved Ice Ice Baby (Lake Forest)
Snow Heaven (Lake Forest)
Snow Monster OC (Huntington Beach, Tustin, Westminster, Long Beach & Mini Monster at Anaheim Packing House)
Snow Station (Anaheim, Los Alamitos, Tustin & Westminster)
Snowy Village (Buena Park)
N2 Creamery (Villa Park) – made with nitrogen
DONUTS & MORE
Crafted Donuts (Fountain Valley)
Dad's Donuts & Ice Cream (Newport Beach) – Famous Balboa bars and chocolate dipped bananas
DK's Donuts of Orange (Orange)
DK's Donuts of Tustin (Tustin)
Dunkin Donuts (Garden Grove, Irvine, Santa Ana, Villa Park, Westminster & Yorba Linda)
Krispy Kreme (Orange & Mission Viejo)
Poqet Donuts (Irvine) – customize your own donuts
The Donuttery (Huntington Beach)
Sidecar Donuts (Costa Mesa)
U Jelly (Fountain Valley)
Zombee Donuts (Fullerton)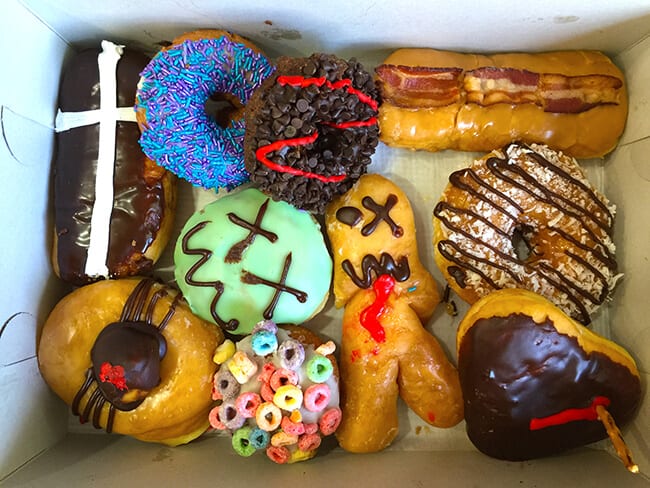 BAKERIES & CUPCAKES
Beverly's Bakery (Fullerton & Yorba Linda)
Blackmarket Bakery (Costa Mesa & Santa Ana)
Creme & Sugar (Anaheim Hills) – Known for their lavender cake, lavender lattes and cookie butter lattes.
Cream Pan Bakery (Tustin)
French's Pastry (Costa Mesa, Irvine, Mission Viejo & Orange) – Since 1965
Hapa Cupcakes (Fullerton)
Nothing Bundt Cakes (Mission Viejo)
Porto's Bakery (Buena Park)
The Sugar Me Bakery (Orange) – Giant cupcakes
The Great Dane Baking Company (Huntington Beach & Los Alamitos)
Rockwell's Bakery (Villa Park)
Simply the Cupcake Store (Mission Viejo)
Sunmerry Bakery (Irvine) – Asian Fusion style
SusieCakes (Costa Mesa, Laguna Niguel & Newport Beach)
Sprinkles Cupcakes (Newport Beach)
Wonderland Bakery (Newport Beach)
85ºC Bakery (Buena Park, Cerritos, Fullerton, Garden Grove, Irvine & Chino Hills) – Taiwanese fusion
COOKIES & MORE
Cookie Connection (Irvine)
Cookies by Jess (Orange)
Honey & Butter (Irvine)
Kelly's Kookies (Brea, Costa Mesa, Irvine Newport Beach & Stanton) – known for their shortbread and lemon cookies
Stax Cookie Bar (Irvine)
The Cookie Element (Yorba Linda)
The Dirty Cookie (Tustin) – Cookie shots!
The Sweet Shot Company (Irvine) Cookie shots!
CHOCOLATE
Luisa Chocolatiere (Laguna Niguel)
Too Sweet (Newport Beach) – Chocolate dipped bananas and Balboa Bars
FROZEN YOGURT
Ice Cap (Placentia)
Menchies (Newport Beach) – fresh made waffle cones
Yogurtland (multiple Orange County locations)
FROZEN CUSTARD & ITALIAN ICE
Confetti Italian Ice & Custard (Costa Mesa)
Frostbites Crepes & Frozen Delights (Cypress)
Joe's Italian Ice (Anaheim)
Kups (Westminster)
Rita's (multiple Orange County locations) – frozen ice with frozen custard
Stickland's (Irvine)
GELATO
Eiswelt Gelato (Westminster)
Mochilato (Irvine) – Japanese fusion – gelato, mochi, macarons, shaved ice and more.
SHAVE ICE
Bahama Bucks (Huntington Beach)
Haole Boys Shave Ice (Huntington Beach)
Hula Girls Shave Ice (Huntington Beach) – fresh made syrups with no preservatives or high-fructose corn syrup
Oahu Shave Ice (Yorba Linda)
Snow 2 Go (Mission Viejo)
Snowy Village (Buena Park)
Sticky Fingers (Irvine)
Wiki Wiki Shave Ice (Tustin)
POPSICLES
Dee-lite Distribution (Fullerton) – Wholesale to the public
Front Porch Pops (Santa Ana & Tustin)
Neveria La Flor De Mexico (Stanton) – yummy paletas
Pop Bar (Anaheim & Huntington Beach)
Paloma's Paletas (Corona Del Mar)
CANDY STORES
Balboa Candy Store (Newport Beach at the Balboa Fun Zone)
B.Candy Store (Corona Del Mar)
Marceline's Confectionary ( Anaheim in Downtown Disney) – They have Disney treats!
Powell's Sweet Shop (AlisoViejo)
Rocket Fizz (Irvine & San Clemente)
PIES & MORE
The Pie Hole (Orange)
Marie Callender's (Multiple Orange County locations)
ALLERGY-FRIENDLY TREATS
Sensitive Sweets (Fountain Valley & San Clemente)
UNIQUE & SPECIALTY TREATS
Bagels & Brew (Aliso Viejo, Lake Forest & Mission Viejo) – known for their rainbow unicorn bagels
Cha2O (Fullerton) – Tea House, Java, Smoothies, Specialty drinks and more
Hello Kitty Cafe Pop-Up (Irvine)
7 Leaves Cafe (Cypress, Fountain Valley, Garden Grove, Huntington Beach & Irvine)
The LOOP (Westminster) – handcrafted churros