The spooky spectre of Halloween is upon us.  Having to cook on a crazy busy night like Halloween is a frightening thought.  Lucky you, tons of restaurants are offering specials like buy one get one free deals, free kids meals and other deals.  Fear not – we've got all the info you need right here to get a good meal and get back to trick or treating, Halloween Party, scary movie marathon or whatever else you've got planned!
EatDrinkDeals includes links to restaurant websites where you can confirm the deal and find further information.  We won't post any deals that cannot be verified from a source such as the restaurant website, social media account, or press release.  So don't be afraid – get out there and save!
Do you want to have great deals like these emailed directly to you? Click here to sign up for our newsletter!
---
7-Eleven
7-Eleven has some scary good deals for the spookiest time of the year. On October 30 and 31, 7Rewards and Speedy Rewards members can get a BOGO deal on any large pizza!
For more great deals, like 7-Eleven's plethora of app offers, be sure to check out our 7-Eleven page!
---
Applebee's
Go to our Applebee's story for other offers, like their $1 Margaritas and 2 for $22 Menu.
---
Auntie Anne's
Auntie Anne's is offering 20% off the new Confetti Pretzel Nuggets and a drink when ordering through the Auntie Anne's app. You can get that deal now through November 13, in fact.
---
Baskin-Robbins
Get $5 off Cake orders with a Baskin-Robbins promo code valid through October 31. Use promo code ZOMBIE at checkout for the deal. Try it on the spooky Zombie Unicorn Cake!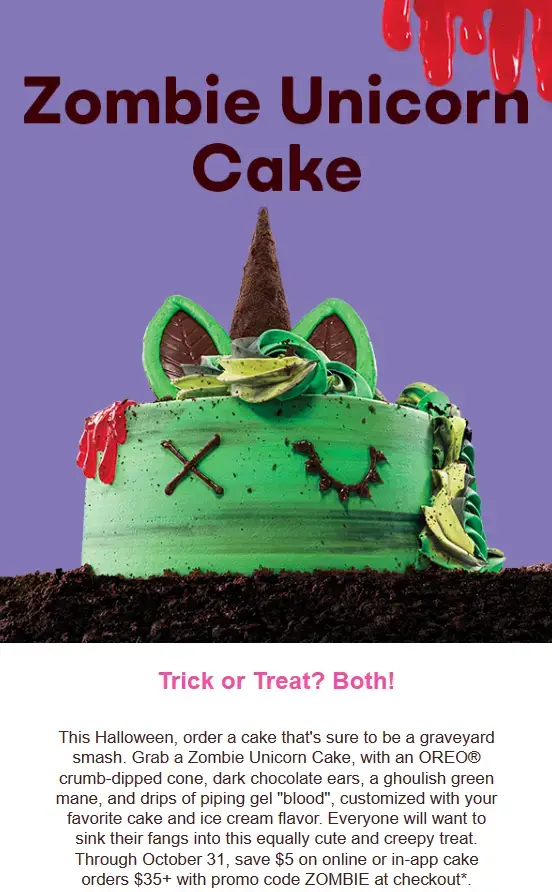 Or, try the Celebrate 31 deal at Baskin-Robbins on Halloween with 31% off all scoops!  The promotion actually runs on the  31st of every month with 31 days (January, March, May, July, August, October and December).  This Baskin-Robbins special is in-store only.  However, you can buy one pre-packed quart and get another for 50% off for both in-store and online orders.  Use promo code CELEBRATE31 at checkout if you're ordering online.
Baskin-Robbins has the details of its Celebrate 31 special here on its website.
---
Head to Blaze Pizza and get the Roasted Garlic and Savory Sausage Pizza for just $8.99 for an individual 11 inch size. That's shredded mozzarella cheese, roasted garlic, chopped garlic, and sausage. We hope you like garlic. Or just driving away vampires. You'll find the What's Hot offer on the Blaze Homepage.
---
Bubba Gump Shrimp Co. has 99-cent kids meals for Halloween for children 10 and under. You can receive this discount with your purchase of an adult entree. For more details, click here.
Click here for the EatDrinkDeals Bubba Gump Shrimp Co. page for info on other promotions, like their Happy Hour deals.
---
Buffalo Wild Wings
Buffalo Wild Wings has buy one, get one 50% off wings on all Tuesdays. Buy one 6, 10, or 15-piece order of traditional wings and get another order 50% off. Buffalo Wild Wings announced the deal on the Buffalo Wild Wings Promo Page.
For more Buffalo Wild Wings deals, like the weekday happy hour, visit the EatDrinkDeals Buffalo Wild Wings story.
---
California Pizza Kitchen
Get any California Pizza Kitchen Take and Bake Pizza for free for National Pizza Month all October long! Here's how to score the free food:
Order any pizza from CPK
You'll get a coupon for a free Take and Bake Pizza to use on a return visit with a purchase of $25 or more
Confirm the deal with your server before ordering. California Pizza Kitchen posted the news on its homepage.
---
Carvel
Order Carvel from Uber Eats, Grubhub and DoorDash and get $5 off a $25 order from October 28 – 31.  Try it out on the new Cinnabon soft serve flavor!
---
Chili's
Chili's has a Trick or Treat-A-Rita available every day in October for $6.  The $6 margarita is made with Lunazul Blanco Tequila, Tito's Handmade Vodka, fresh sour, strawberry puree, Classic Frozen Margarita and Halloween candies mixed in. It's available all month long for just $6. Chili's announced the special on its Margarita Of The Month Page.
Pair it up with the new 3 for Me lineup starting at $10.99 – you'll get a drink, appetizer, and entree.   Chili's has the 3 For Me details up on their website.
---
Need plans for a quick dinner on Halloween? The scary good Boorito deal will return to Chipotle on October 31 from 3 pm – close, with $6 entrees! Use promo code BOORITO for an online or app order – see the full details on Chipotle's website here. You'll only be able to get one entree – burrito, bowl, salad, whatever – at the special price. Still, a fully loaded burrito can normally cost twice that much!
---
Chuck E. Cheese has Halloween Boo-Tacular deals to give kids a fun and safe environment to dress up and enjoy the season through October 31. Enjoy new menu items, a new spooky show, free Game Play and treat bags for kids in costume starting at 6 PM every night! Buy 60 minutes or more of Game Play and get 30 minutes for free. Also, Halloween-themed menu items return, like the Pumpkin Pepperoni Pizza, a Creepy Cupcake, and Dippin' Dots "Eye Scream".
The Bootacular show will play every hour on the half hour at 6:30, 7:30 and 8:30 PM, with some free candy up for grabs. Kids that show up in costume will get 10 free Play Points with any games purchase, too.
Chuck E. Cheese has all the details for the Halloween Boo-Tacular here on their website.
---
Church's Chicken
Church's Chicken has online coupons good for discounts on Chicken Meals before you get the tricks and treats going.  CLICK HERE for the latest Church's Chicken coupons. Current coupons include:
$4.99 Individual Meal – 2 pc Leg and Thigh, Mashed Potatoes and Biscuit
$9.99 Two Can Dine – 5 Pc Dark or Tenders, 2 Regular Classic Sides and 2 Biscuits
$22.99 Family Meal – 10 pc Legs & Thighs, 2 Large Classic Sides and 5 Biscuits
Free Regular Side with purchase of a Regular Side
Free Half-Gallon of Sweet or Unsweet Tea with 16 pc Family Meal
---
Del Taco
Del Taco has Tacoberfest going on for the entire month of October in their app. The deals for Halloween and the weekend leading up to it include a Free Double Cheese Breakfast Taco with $3 Purchase, a free Free Grilled Chicken Del Carbon Taco with purchase, and many more. Read all about it here on our Del Taco page.
---
'Tis the spooky season for free Scary Face Pancakes for kids at IHOP! From October 24 – 31, kids aged 12 and under can get a free Halloween treat with the purchase of an adult entree. The offer is valid for dine-in orders only, from 4 – 10 PM. IHOP sent this press release with the news.
IHOP also has pumpkin spice pancakes and a lineup of IHOPPY Hour specials – check out more details here.
---
Insomnia Cookies is celebrating 20 years in business all month long, with deals like free cookies! Now through October 31, just say "Happy Birthday" and you can get a free Classic Cookie with any purchase. Or, if you're loading up, you can get a 20 pack of Cookies for $20, which is $8-$10 off the normal price. For online orders, use promo code HBD20.
"I could have never imagined that an idea that began in my dorm room would one day blossom into a beloved global bakery," said Seth Berkowitz, Founder and CEO of Insomnia Cookies. "Insomnia is so grateful to our loyal Insomniacs, whose insatiable hunger and passion for our brand has fueled our growth."
---
Joe's Crab Shack
Kids 10 and under eat for only $.99 with purchase of an adult entree at Joe's Crab Shack on Halloween.  You can get a 99-cent Kids Meal for each adult entree purchased.  Joe's Crab Shack posted the deal on their website.
Our EatDrinkDeals Joe's Crab Shack story here has info on other goodies, too!
---
Just like in years past, if you show up to a Krispy Kreme on Halloween with a costume on, and get a free doughnut of your choice, no purchase necessary!
---
Little Caesars
Here are the top Little Caesars promo codes available right now.
HANGTEN – 10% off online order of $15 or more – valid through 11/5/23
ENDZONE – $5 Classic Pizza with purchase of any Calzony – valid through 11/5/23
HALFTIME – 50% off Wings with purchase of any two Pizzas – valid through 11/5/23
For more details on this and other promo codes and coupons, see our story, Little Caesars Promo Codes & Deals
---
Get 31% off your order at MOD Pizza when you wear a costume in the restaurant on Halloween. They sent this press release with the details.
---
Morton's Steakhouse
Morton's Steakhouse has a $59 three-course Halloween deal running.  Entrees include the Horseradish Crusted Salmon, Prime Pork Chop Milanese, Black and Blue Filet Mignon, and Chicken Christopher. For the full menu details, visit the Halloween at Morton's webpage.
Morton's has a great Happy Hour and other occasional promotions.  For more info, visit our Morton's page.
---
For the early morning Halloween deal hunters, grab some bagels from Panera. On Tuesdays, get a Baker's Dozen (thirteen total) bagels for just $7.49 at participating Panera locations.  That's half price!  Most of them will honor the deal.  You can check with your local spot by going to the Panera menu website here, and on Tuesdays you should see this option (prices may vary):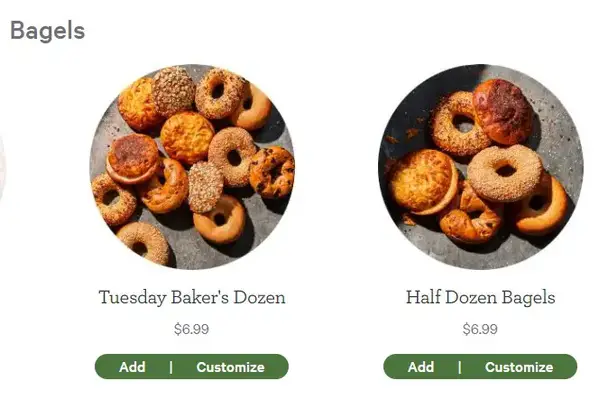 ---
Papa John's
Papa John's has brought back their Jack-O-Lantern pizza, priced at $11 and available from October 23 – 31. It costs $10.99 in most locations.
Also, be sure to check out our Papa John's page for more info about their latest promotions and promo codes.
---
Rubio's
Rubio's has Fish Tacos for just $2.25 all day every Tuesday, or $2.50 for the Fish Taco Especial.  Or, get a Fish, Chicken or Steak Taco Plate for $8.99 or the Shrimp Trio plate for $9.99. For more details see the Rubio's Weekly Deals Page.
Go to our Rubio's page for more Rubio's coupons and specials that are available, like Friday deals.
---
Shake Shack
Buy a Shake and get another free with a Shake Shack promo code valid from 2-5 pm! Any flavor and any size Shake will do. You'll have to order online or in the app to get the freebie. Use promo code FAVESHAKE – click here to start an order. Shake Shack sent this email with the code: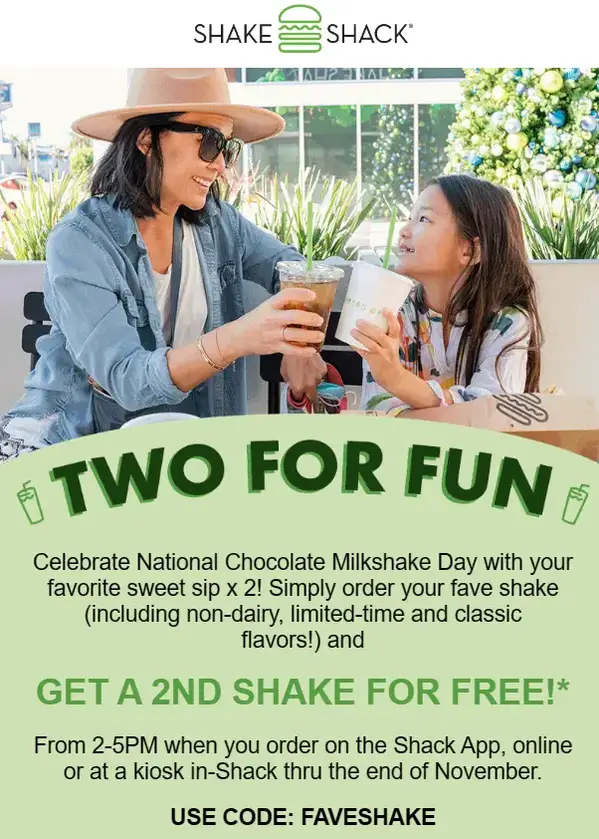 ---
Tuesdays after 5 PM are Family Night at Sonic with 1/2 price cheeseburgers.  You'll have to use the Sonic app to get the deal.  The discount will be automatically applied. Also get 1/2 off drinks and slushes during the Sonic Afternoon Happy Hour special from 2 – 4 pm.  The half-price happy hour special is good on soft drinks, iced teas, regular or frozen lemonades and limeades, Ocean Water and Slushes.  You can also get these deals all the time by ordering with the app. For more details visit the Sonic Deals page.
---
Buy one footlong sub and get another free with a Subway promo code valid for online or app orders!  Go to the Subway website to start an online order, and use promo code BOGOFTL at checkout.
Unfortunately, Subway promo codes don't work 100% of the time in all locations.  The Subway BOGO footlong one worked in about half the locations that we tested. If your location doesn't honor the code, fret not. When you hit "Apply" on the code and it gets rejected, you'll see a message pop up that says "promo not supported at this restaurant", and a link that says "Find participating location" below it. That will take you to a map with nearby Subways that do allow the buy one, get one free code.
The footlong of equal or lesser value will be taken off your total. Here's what it looks like when the code is applied correctly: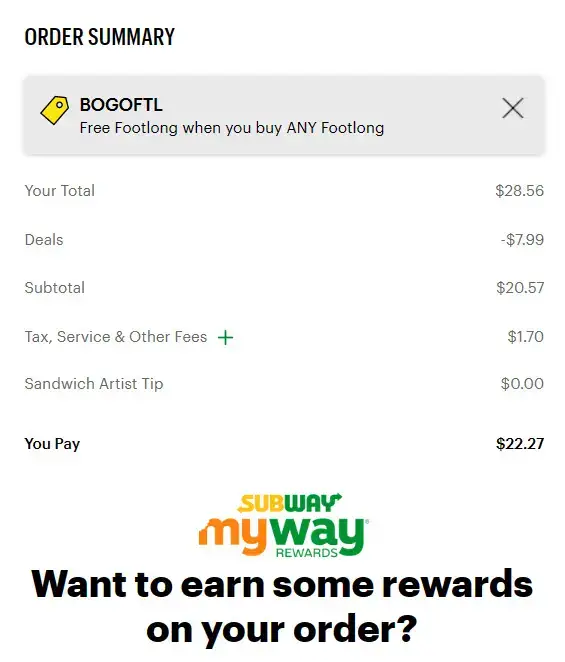 For more Subway deals see our story, Subway Coupons & Promo Codes.
---
Taco Bell
Want some free breakfast? Head to Taco Bell for a FREE Breakfast Taco on Tuesdays before 11 AM! This is part of the Tuesday Drop program available to Taco Bell Rewards members. To sign up, head here to the Taco Bell website.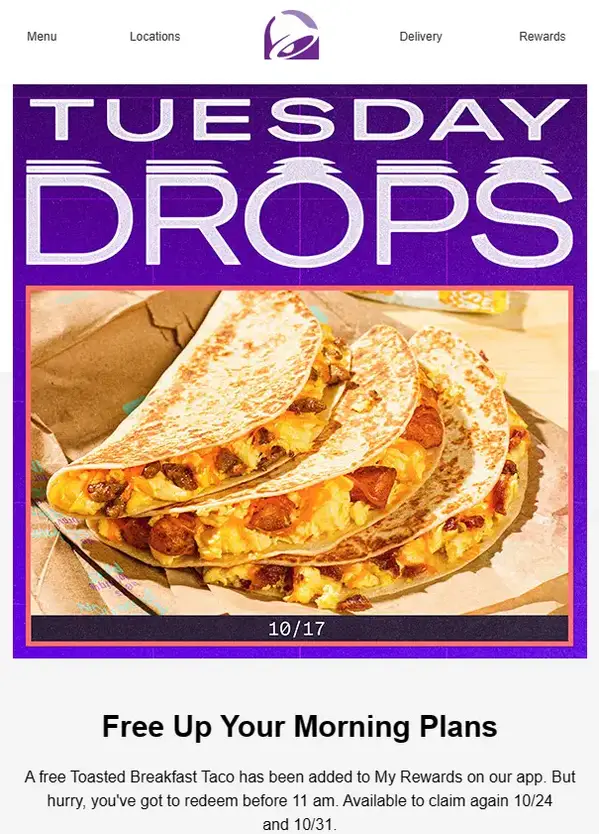 ---
Buy one entree and get one free with a Veggie Grill promo code valid for online or app orders through October 31. Start an order online and use promo code NEWMENU at checkout. You hade to order from the new menu items to get the deal. Choose from the Sesame Tofu Supergreens, Truffle Mac & Chese, Pesto Chick'n Parm, Ranchero Bean Fiesta or the Caesar Crunch Salad. Veggie Grill sent this message with the code.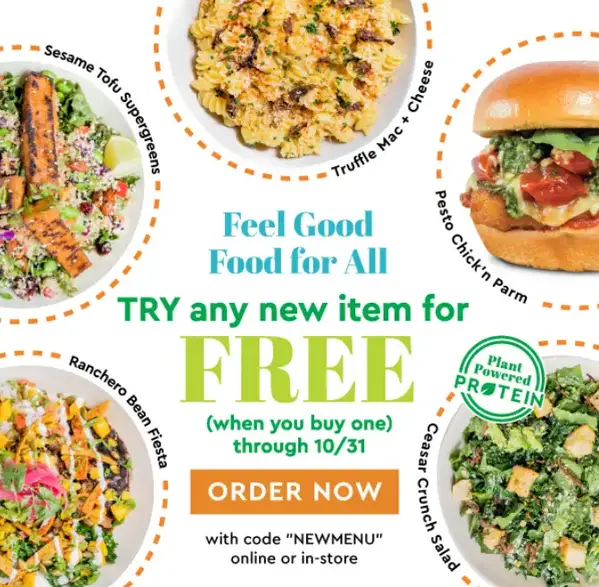 Wendy's
For just $1, you can help find adoptive homes for children in foster care and enjoy 5 free Jr. Frosty treats with the Halloween Boo Books from Wendy's.  Boo Books are $1 each and has 5 separate coupons for a free Frosty Jr.  These are great trick or treat items, but no one says you can't buy them for yourself!  You can buy them in person at participating locations, or order them online. To order your Boo Books, click here for the Wendy's Boo Books website.
---
Wingstop
Wingstop has 70-cent boneless wings on Mondays and Tuesdays.  For info on this and other great Wingstop specials, go to our Wingstop story.
---
Wing Zone has daily specials on Mondays through Thursdays. On Zesty Tuesdays get original bone-in wings for $1.09 apiece. For more details on this and more Wing Zone deals see our story, Wing Zone Weekday Deals.
---
Note:  For all the deals mentioned, price and participation may vary by location.