By Ana Durrani | Jun 24, 2021 | Realtor.com
You might be gazing out at your backyard and thinking it's seen better days. Sure, the past year was tough on all of us—and even your backyard may be showing battle wounds.
But does fixing up your outdoor space really need to be a big financial commitment?
The American Society of Landscape Architects recommends homeowners budget the cost of a major landscaping project at 5% to 10% of the value of their home. And if you have that much to spend, god bless. But whether it's a whole outside concept or a revamp of the patio, renovating your yard doesn't have to cost a lot of money or be too time-consuming.
To get started, use these clever design tricks to transform your basic yard and make it look like you had it professionally done.
1. Define your spaces
"Cleary defined spaces in your backyard will give your yard dimension and purpose," says Matt Blashaw, TV host and licensed contractor. "This is why designing a yard is so hard to do for some people. In a home, the spaces are already defined for you, but outside you have to organize those spaces and add all of the features."
For example, define an outdoor sitting area by gathering a few all-weather chairs, facing them inward. Add an outdoor coffee table in the middle.
Blashaw says he also likes to use an outdoor area rug under a dining table and chairs to define the space and add color and texture to the yard.
Clearly defining an outdoor kitchen space doesn't have to break the bank either.
"Place a kitchen cart topped with butcher block behind the chef to add more workspace and perfectly define your outdoor kitchen," he says.
2. Create a garden path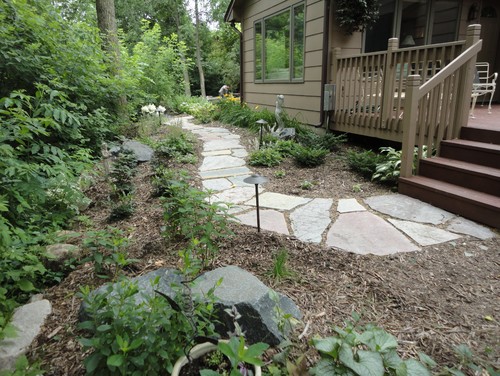 Photo by Living Space Landscapes | Add a meandering path to give a more polished look to an otherwise untamed space.
"I love bringing old brick or stone pathways that have been overrun by weeds back to life," says Blashaw.
He uses Spectracide Weed & Grass Killer ($8, Home Depot) to eliminate weeds in between bricks and stones and breathe life cost-effectively into walkways.
You can also lay a new path with gravel, pavers, or concrete slabs.
"One of my favorite pathways is made from a decomposed granite mix with polymeric sand," says Blashaw. "Create the pathway by installing thick lawn bender board, add the decomposed granite, compact with either a hand tamper or plate compactor, then lightly mist with a water. In a few hours the surface will harden giving you a very solid surface."
3. Add some paint
Consider painting the back of your house a different color than the other three sides.
"Painting the back of the house has been one of my most cost-effective backyard renovation tricks for many years. Sometimes it takes me a little while to convince a homeowner to do it, but when they do, it makes an instant impact to the yard," says Blashaw.
He recommends imagining the back of your house as an accent wall for the house. Choose a wall color that coordinates with the rest of the house's exterior color scheme. And be sure to take into account the landscaping in your yard so you don't clash. For example, a back wall painted green in a yard with heavy foliage will get lost.
"A lighter color will brighten a space and make your existing backyard elements stand out," Blashaw says.
4. Think vertically
Switch up your perspective and add some vertical elements to your backyard.
If your backyard has a large, flat lawn, add some dimension by bringing in a colorful glazed pot with some colorful annuals planted inside, Blashaw says. "This will give you color even during the winter."
You can also add a birdbath ($125, CB2), a geometric chiminea ($528, Terrain), a trio of planters ($129+, Frontgate), or a hanging garden wall ($24.95, Amazon).
5. Mulch it up
By laying like-colored mulch on all flowerbeds and exposed soil in your backyard, you can give your space a finished, unified look, experts say.
"Adding mulch to your garden beds is one of the most important things you can do for the health of your plants and soil," says Aaron Lynn-Vogel, horticulture answer service coordinator for the Missouri Botanical Garden.
Lynn-Vogel says several studies have shown that mulching can conserve water, reduce weeds, prevent soil compaction, and increase soil fertility.
"I describe mulch as 'the paint of landscape.' It's a very inexpensive way to make your planter look brand-new," says Blashaw. "I personally love a good cedar mulch. It lasts longer, has amazing color, and it smells great."