Crave Shade? The No-Brainer Upgrade Your Outdoor Space Needs This Summer
By Jennifer Kelly Geddes | Realtor.com | Aug 6, 2021
If your home's outdoor space could stand for a bit more shade or protection from the elements, an awning may be just the ticket.
At its most basic, an awning is a piece of material attached to your house that unfurls to cover a patio, deck, door, or window. It can be permanent or retractable (with either a hand or motorized crank).
An awning shields areas from the sun, allowing outdoor areas to become more shady, cooler, and usable during the hottest hours of the day. You're also protected from rain, which means you won't have to cancel so many cookouts with neighbors. All in all, awnings can create more livable space outside your house that you can use in all kinds of climate and weather.
But awnings actually do a lot more than serve as a buffer from the elements. Here's more about awnings, from their secret benefits (both indoors and out) to the various styles and materials you can consider, plus some tricked-out awning upgrades that'll make your summer all the sweeter.
The benefits of an awning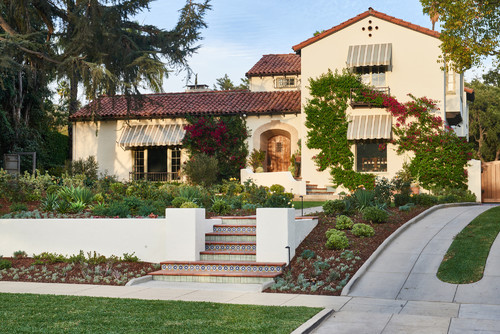 Photo by Rollins Andrew Interiors
Although the main benefit of an awning is its power to transform outdoors areas into shady spots you can use regardless of sun and rain, one oft unsung benefit is the money you'll pocket in energy savings—particularly for awnings placed over windows.
According to the U.S. Department of Energy, awnings over windows can cut the amount of summertime sun your home gets by 65% on south-facing windows, and 77% on western ones.
So if you'd like to run your air conditioning a lot less, an awning that covers one or more of your hot sunny windows is the ticket.
Plus, awnings protect not only outdoor areas, but indoor spaces, too. With less sun streaming in, it can help safeguard your interior furnishings (including wallpaper, flooring, carpets, upholstery, drapes, and artwork) from ultraviolet rays, which can cause them to degrade and fade over time.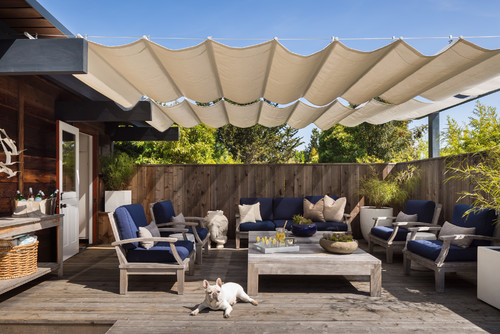 And don't forget the obvious curb appeal that awnings can provide. Awnings with thick stripes, coordinated piping or edging, or scalloped edges or small cutouts can brighten an otherwise quiet exterior or backyard.
Types of awnings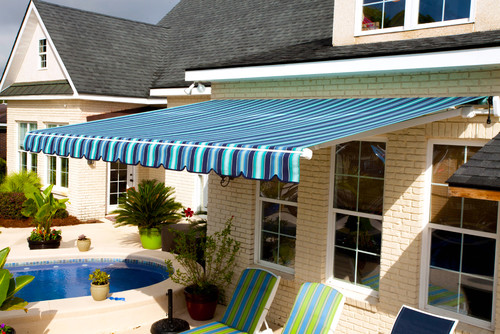 Photo by Coastal Canvas Products
In addition to the classic retractable awning attached to your house, free-standing awnings can be erected and then moved as needed from your deck to the lawn.
If you plan on opening and closing an awning often, motorized models are ideal due to their ease of use if you can swing the added cost.
"Try to go for an automated retractable awning, because the last thing you want is to deal with gears and and pulls when you're trying to relax on the patio," says Drew Henry of Design Dudes.
Awning costs and upgrades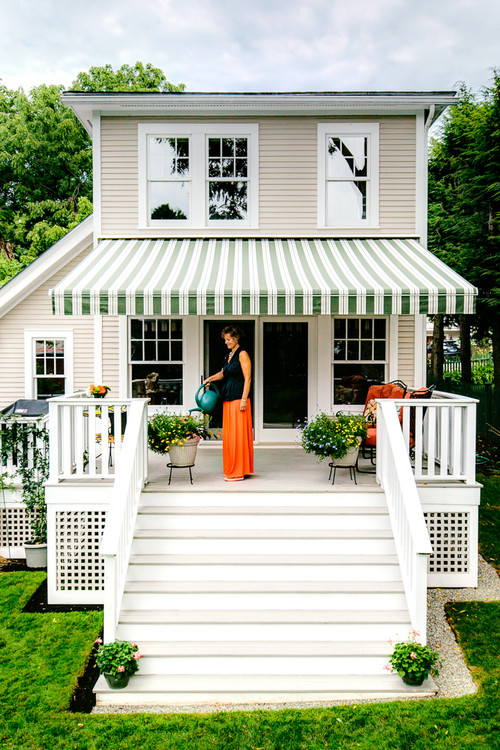 Photo by Matthew Niemann Photography 
A basic awning for one set of front windows or to cover an average-size back deck will  cost $150 or so. Prices go up from here, of course, depending on how many extras you want. Awnings that open and close at the push of a button will cost more than one that simply retracts with a cord and your own muscle.
On the higher end, you can spend as much as $7,000 for the most tricked-out versions, which may include built-in heaters, speakers to play music, or a misting system that lightly sprays cool water.
Best fabrics for awnings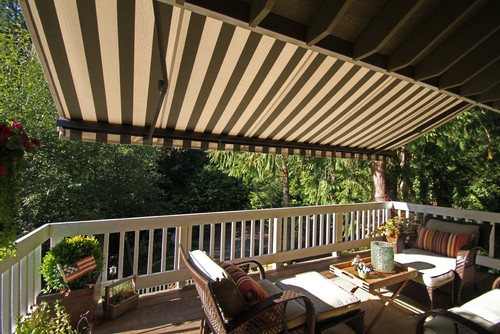 From classic stripes to solids and simple patterns, an awning's design is limited only by your imagination and budget. Darla DeMorrow, author of "Organizing Your Home With SORT and SUCCEED," urges homeowners to select Sunbrella or similar fabric for outdoor awnings.
"It's truly the gold standard for every outdoor accessory and comes in loads of colors that'll coordinate with your home's style," she says.
This wonder material costs more, but it's worth it as the fabric is highly durable; is resistant to water, mold, and mildew; and won't fade quickly under the hot sun. Sunbrella allows some light through while also blocking dangerous UV rays and excess heat.
As for awning colors, stick to shades that match your house.
"If your home is white with green shutters, the safe bet is to install a white awning with green stripes," says Henry.
Awning maintenance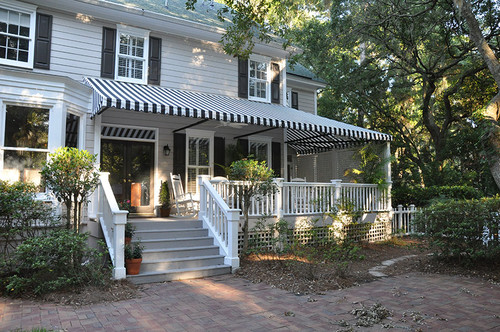 Photo by Coastal Canvas Products
After installing an awning in the front or back of your house, don't let rotting leaves, bird droppings, pine sap, and other debris linger on the fabric or become rolled up inside when you retract it. Aim to give your awning a good wash twice a year by spraying it with a hose and using a long-handled brush and a gentle soap to remove stains.
Your awning's arms and braces can also be cleaned, or you can call in a pro to do the job. (The pro might also check the gears, handle, and other motorized parts to ensure they're in good working order.)
---