1. Add Some Sparkle & Fun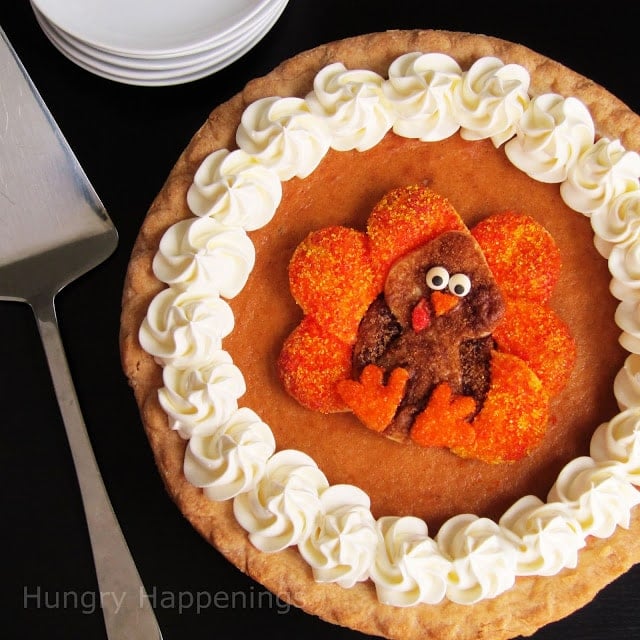 Hungry Happenings has a great tutorial on how to create a colorful and sparkly turkey out of pie dough to add to the top of your pie.
2. Gorgeous Whipped Cream Topping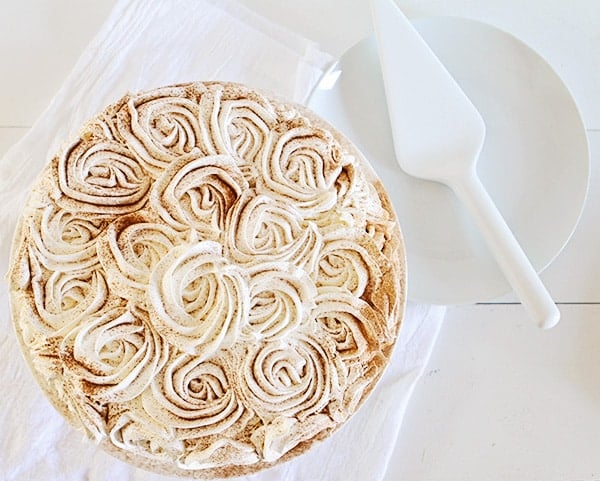 For the truly adventurous and artistic out there, there's the whipped cream rose topping from i am baker. I'm still swooning over how beautiful this is. You can even simply pipe those roses on top of a regular pumpkin pie, skipping the sides.
3. Decorative Crust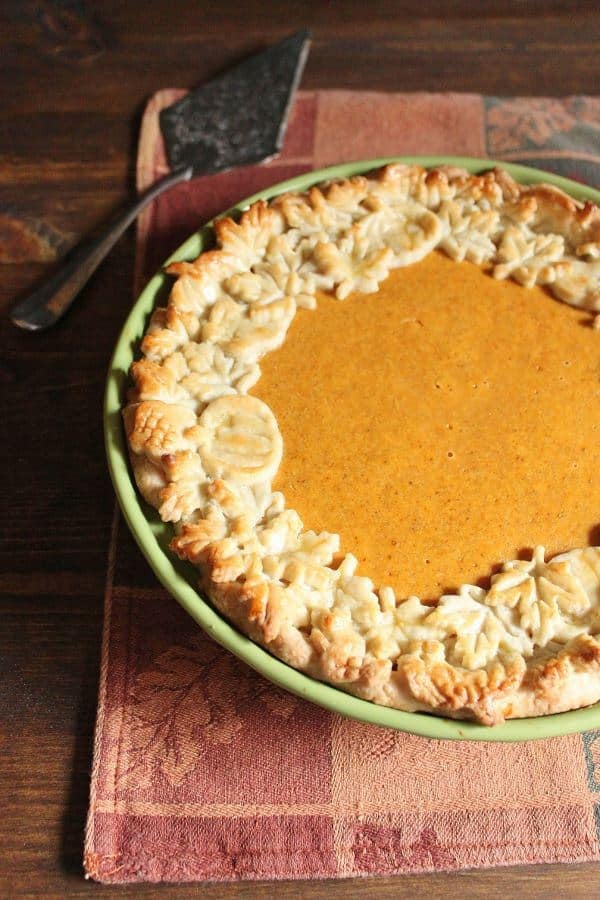 The leaves and pumpkins decorating the crust on this pumpkin pie from Wild Wild Whisk made my jaw drop the first time I saw it. It has the right amount of rustic elegance for the holiday table.
4. Autumn Leaf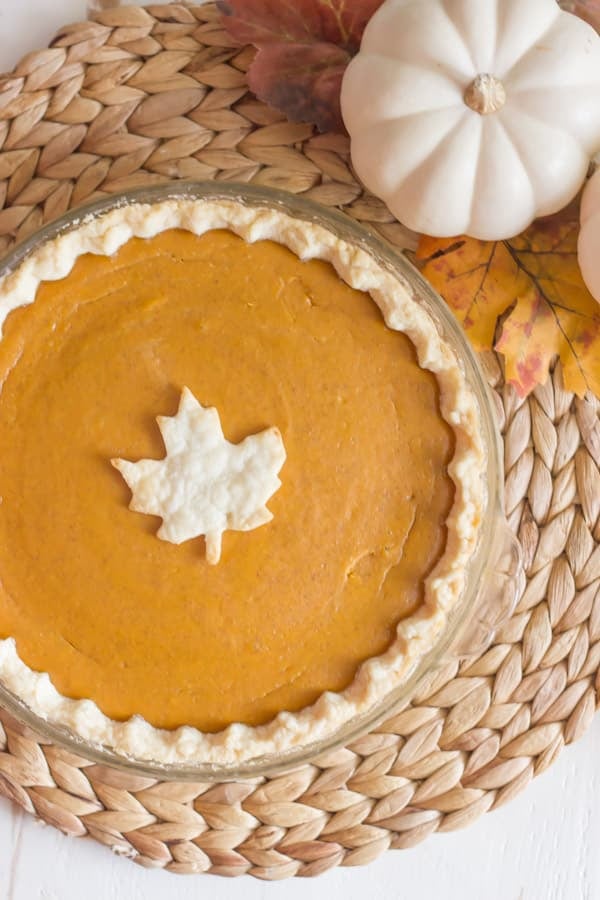 Lovely Little Kitchen has a ridiculously simple decoration that will take you seconds and will also use up any extra pie dough. Simply cut out a large leaf from the leftover pie dough and place it in the center of the pie!
5. Leaves and Vines
If you're making a slab pumpkin pie like this one, or are merely looking for a less pie crust heavy decoration for your pie, try decorating with dainty leaves and vines made from pie dough.
6. Nuts about nuts!
It can be as simple as a topping of chopped walnuts to take a plain ol' pumpkin pie to the next level, like this one from Midwest Living. Plus the extra crunch is a great surprise, especially when served with extra whipped cream.
7. The Best of Both Worlds – Pie Crust and Whipped Cream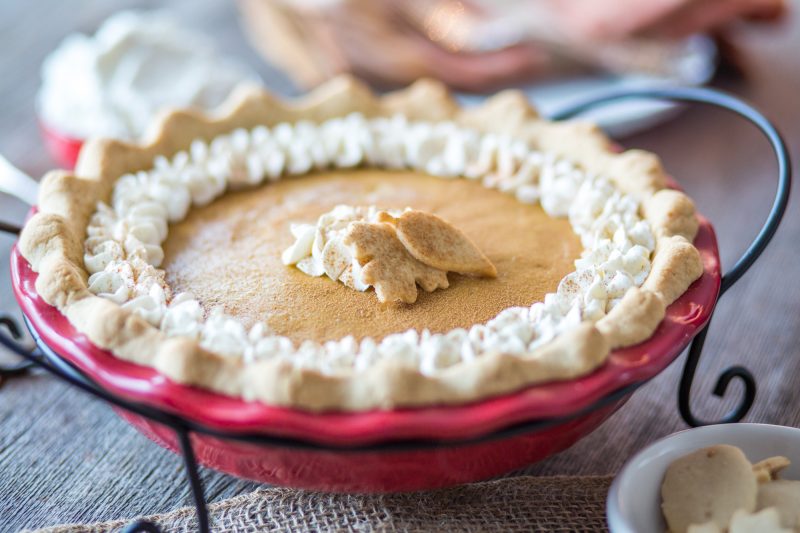 I've saved the best for last… Why not go with both whipped cream AND pie crust decorations? Primal Palate's pie boasts a two-topping knockout of a pie! I know there are many of you looking to one up the other pies on the dessert table and this is the way to go.
8. Pastry Leaves

This beautifully decorated pumpkin pie from Lemon Blossoms is topped with perfect fall pastry leaves.
Pastry leaves made out of pie crust are is my go-to pumpkin pie decoration year after year. They are simple to make and look so pretty. You can also see them on my Vegan Pumpkin Pie, though they don't puff up as nicely with almond flour pie crust.
9. Turkey Decorated Pumpkin Pie

Take the fall leaf pumpkin pie decoration idea a step further and make a turkey! This Turkey Crust Pumpkin Pie from Kudos Kitchen is just too cute!
10. Sugared Cranberries
Sugared cranberries are one of the most festive holiday treats. They are tasty and beautiful and a wonderful pumpkin pie decoration. We used them on our Vegan Pumpkin Cheesecake, pictured above, along with some pomegranate arils and fresh mint leaves.
11. Nuts & Seeds
For a natural aesthetic, you can't beat nuts and seeds. Toasted pecans and pepitas are a natural fit for pumpkin pie decoration. Candied pecans or almond brittle broken up into little pieces is tasty too.
12. Chocolate

Chocolate is surprisingly tasty with pumpkin. We've shared Chocolate Swirled Pumpkin Pies here, but this is another lovely Double Chocolate Pumpkin Pie from Family Spice.
Alternatively, but also with chocolate, dark chocolate shavings could be piled up in the center of a pumpkin pie or over freshly whipped cream.
13. Edible Flowers/Leaves
Loria Stern uses edible hibiscus leaves on her Maple Fall Cookies. To use this idea for pumpkin pie decorations, top your baked pie with a few of these cookies, or top the pie with pressed edible hibiscus leaves.
14. Piped Whipped Cream and Coffee
Addicted to Dates topped this lovely vegan pumpkin custard pie with whipped coconut cream sweetened with maple syrup with instant coffee. Cocao powder or cinnamon would work well for dusting too.
15. Freshly Whipped Cream
Pile pillowy freshly whipped cream (or coconut cream for dairy-free) on top of your pie for a beautiful contrast in color. This lovely Pumpkin Pie From Scratch is from Flavor the Moments.
---
HOW TO MAKE FALL LEAF PUMPKIN PIE DECORATIONS
The trick to making beautiful pastry leaf pumpkin pie decorations is to use cutters that are made for this purpose. You can find them at cooking stores such as Williams-Sonoma, or get them delivered quickly with Amazon Prime.
Simply roll your pie crust out as usual, then use the cutter to cut out your fall shapes. Brush lightly with an egg wash and sprinkle with sugar if desired.
Place on a cookie sheet lined with parchment and bake at 350°F for about 10 minutes until golden. Top your pie with the pastry leaves after it has baked and cooled, or serve them separately to place on whipped cream. Learn How to Store Pumpkin Pie first.
---
Sources: