Forget holding objects to see if they spark joy. It's finally time for collectors and pack rats to rejoice!
It turns out, all of the crap you've collected over the years and crammed onto shelves is actually a decorative style that's trending on Instagram and TikTok. So welcome to "cluttercore."
More is more when it comes to this newest home style that features layers of pattern, color for days—and just about anything else you'd like to add.
The look has gone so viral that tens of thousands of folks are flocking to their social channels to take "shelfies," or selfies of their bookcases, so they can share their cluttercore designs.
Homeowners are lining up their seashells, action figures, and candles shaped like vegetables to proclaim their unabashed love of cluttercore.
Wondering how cluttercore began—and whether this style is one to try or one that veers into hoarding territory? Here's more about this latest decor trend, ways to get the look in your rooms, and how to know if you've moved past cluttercore into just plain clutter.
Cluttercore origins and definition
A video on TikTok last summer got the cluttercore ball rolling—and there was no looking back. This look seems to be an outgrowth from our cooped-up days during the COVID-19 pandemic when we were forced to spend hours looking at our homes with a critical eye.
Aching to feel safe in an upside-down world, we gathered our clutter together and put it on display. Cluttercore at its heart is actually maximalism on steroids, with a focus on groupings on shelves, layers on walls, or anything that signals abundance.
"The expression of cluttercore is to arrange things into groups and leave some space between them so each section has its own importance," explains Robert Oleysyck, owner of All In Creative Agency.
Cluttercore colors and texture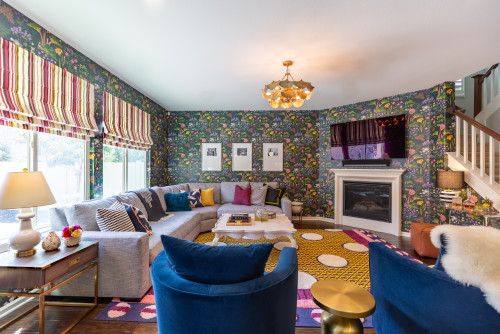 If you're a lover of maximalism, cluttercore is a close relative. (Think of the style as your very eccentric aunt.) And one way to get the look is to embrace an abundance of color and textures in your rooms. Oleysyck suggests creating a design in your home that works for you and "makes you feel whole or fulfilled."
And if this maxi-gone-crazy style gets to be too much in one room, you can always tone it down in another.
"Carve out specific areas where you can express cluttercore with intention while reserving other spots, like the bedroom, for a more quiet aesthetic," Oleysyck says.
Cluttercore celebrates collections
If you're into vintage dishes, bowler hats, or comic books, and you want to view them in detail around the clock, cluttercore is for you.
Hang a gallery wall with your finds, corral them on a tray, or mount them under glass for safekeeping. It all works with this fun and creative design trend.
Oleysyck says he proudly displays photography gear, audio equipment, speakers, and a massive collection of vinyl and CDs—"all of which I have an emotional attachment to." But he does cop to cleaning it up now and then, or when he's feeling restless or having company over.
"There's a misconception that being organized means you have to have a sparse space with no warmth," notes Katie McCann, the organizing professional at Haven.
Even McCann, who lives and breathes order at her day job, displays decorative items on her bookcase. But she draws the line in high-traffic areas. (Her kitchen counter, dresser, and foyer table are neat and tidy.)
Cluttercore pattern on pattern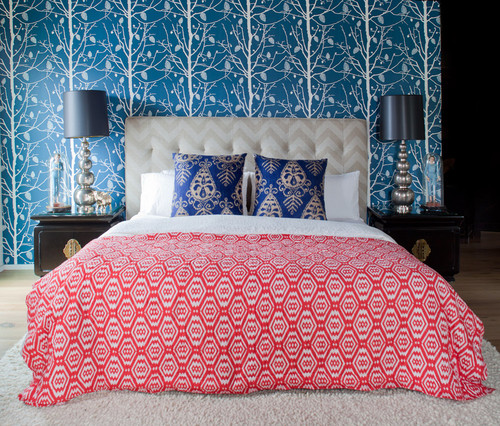 Photo by California Home + Design
Cluttercore also embraces patterns in a big way, including wallpaper, textiles, and floor coverings. But as you plan your look, think about a unifying thread that can run through it, whether it's red, white, and blue; a flower theme; or Indian block prints. Otherwise, you may end up with a headache-inducing aesthetic.
Cluttercore—or simply clutter?
As with any decor trend, cluttercore definitely has its detractors. Leah Atkins of the eponymous design firm laments this new extreme in home design.
"You're on trend if you cover all your walls, overfill your shelves, and put out so many pillows on your sofa you can't sit down—this look is literally a hoarder's dream come true," she explains.
McCann doesn't disagree and reminds homeowners of the need to draw the line somewhere.
"If there's no method in place, then you're simply leaving all your stuff out in plain sight rather than tucking it away," she says.
The bottom line: You can make the joy that is cluttercore work for you, without going off the deep end into utter chaos. The experts here all urged homeowners to make collections work for them, rather than become hostage to the collections.
And if you can't find a place to sit down, it's time to rethink the pillows.