---
Does Your Out-of-State Mover Check all the Boxes?
The flexibility to work from home has led many Americans to consider moving closer to family or where the cost of living is lower. It's certainly a big decision that will lead to making other important choices. One of the first will be hiring a moving company.
Tips for Selecting the Right Moving Service
Start by researching long-distance moving companies carefully. Ask your friends, family and colleagues for recommendations. After confirming that the company covers moves between your current city and your new destination, pick a mover that checks off the boxes you consider important. For example, find out if they'll help you move pets or plants.
Do your best to compare apples to apples. Since movers use different ways to price their quotes, try using an online comparison tool to sort out the differences and determine which one works best for your move.
Once you select a moving service, remember to get the contact information of the representatives you'll be working with before, during and after your move.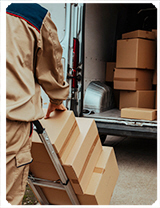 ---
Technology Is Changing What Home Buyers Expect
Just a few short years ago, terms like "doorbell camera" and "smart thermostat" weren't part of our lexicon. Today, nearly everyone is familiar with smart home technology. In fact, several of these modern conveniences have become the norm and are now expected by home buyers. As a result, home automation can give a decisive advantage when selling your house. Real estate industry experts say most buyers are willing to pay extra for many of these features. Here are three leading smart technologies buyers expect to see in a house.
Security
A smart security system allows you to monitor your home through an app while you're away. Features that allow you to control lighting and view live camera feeds of your property can reduce homeowners insurance and provide peace of mind.
Window Coverings
Blinds controlled by voice or an app are a relatively inexpensive upgrade that will catch the attention of buyers. You can set a schedule to easily raise and lower blinds for optimal energy efficiency and added home security.
Equipment
From sprinklers to home theaters, smart systems can simplify day-to-day tasks and add an element of luxury to your home. Investing in equipment to automate your home is a simple way to distinguish your house from the competition.
The future of smart technology remains to be seen, but we can expect the demand to grow. Over the next decade, Time.com predicts smart homes will boast features such as robotic kitchen arms to assist with food prep and clean-up, health sensors to monitor for illness, 3D printers to create objects on-demand, and tech-free rooms to provide space for residents to unplug from their hyper-connected world.
---
Home Size on the Rise
From established urban neighborhoods to sprawling suburbs, houses all across America are getting bigger. While the average size of newly constructed single-family homes has fluctuated over the years, the trend toward larger houses is apparent.
Over the past two years of the pandemic, working from home has led people to reevaluate their housing requirements. As the need to separate work areas from living spaces became clear, many chose to either add on to their existing home or move to a bigger house.
But this trend actually began years before the pandemic. According to Freddie Mac, the U.S. Census Bureau's Survey of Construction shows "in 1990, 29% of new single-family homes completed had four or more bedrooms. That share had increased to 43% by 2019 (pre-pandemic) and further increased to 44% by 2020."
Ironically, while the size of our houses has grown, the size of our families has decreased. Since 1940, the U.S. has seen a 16% decrease in people per household, reports TheZebra.com. Ideally, rising construction of larger homes will begin to uncramp living conditions for many Americans looking for more space.
---
Another Competitive Spring Market?
What can buyers and sellers expect as the spring real estate market heats up? Will it be another record-breaking year, or will there be a shift back to a more normal, predictable market?
Housing demand is expected to remain high as buyers are still competing for fewer homes. The current low housing inventory may be exacerbated by labor and supply shortages. On the other hand, rising interest rates could price some buyers out of the market, reducing the competition.
Home prices will continue to rise, but at a slower rate than in 2021. While sellers may still be at an advantage in 2022, buyers who secure financing in advance will be in a better position to strike when the perfect house comes along.
---
Home Staging Checklist
Home staging encourages better offers. Think simple, modern and clean to make rooms feel spacious, warm and inviting.
Freshen paint with neutral, soothing tones like beige or gray.
Declutter and depersonalize. Move a few pieces of furniture to storage and tuck away personal photos.
Update kitchen cabinets with fresh paint and replace old hardware with contemporary finishes. Shine appliances and remove throw rugs.
Deep clean bathrooms and clear countertops. Add new bathmats, fluffy white towels and decorative soaps.
Transform bedrooms into havens with coordinated, gender-neutral colors for walls, windows and bedding. Update the look with contemporary headboards and accessories.
Streamline closets by hiding clutter in attractive, stackable boxes. Hang clothing on matching hangers to help the space feel clean and organized.
Neutralize pet odors and store pet accessories out of sight.
---

  ©2022 The Personal Marketing Company. All rights reserved. Reproductions in any form, in part or in whole, are prohibited without written permission. If your property is currently listed for sale or lease, this is not intended as a solicitation of that listing. The material in this publication is for your information only and not intended to be used in lieu of seeking additional consumer or professional advice. All trademarked names or quotations are registered trademarks of their respective owners.
If you would like to opt out of any future mailings, please click here.
The Personal Marketing Company
11511 W. 83rd Terrace
Lenexa, KS 66214